SOFC Interconnector
We are providing several special alloys(Crofer 22APU and Crofer 22H, etc.) to meet severe requirement for SOFC which need low electric resistance at the high operation temperature, etc.
Various thickness is available in stock and offer surface processing support on request.
Main feature of the Crofer 22APU/H
High resistance for corrosion under Anode gas and Cathode gas at high temperature
Low Chromium evaporation
Suitable heat expansion rate to SOFC Cell
Low electric resistance of the oxide layer
Thinner Interconnector can be realized with Crofer 22H due to the better creep performance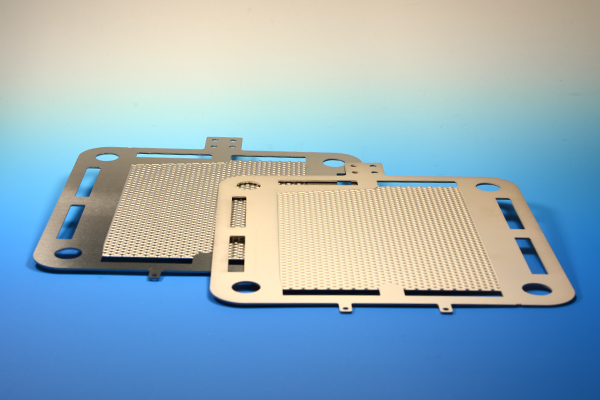 ---
SOFC Interconnector Materials
Crofer 22 APU
Crofer 22APU which is the product of ThyssenKrupp VDM in Germany is available from our stock. The stock size is as below. The Crofer 22APU is regarded as the best alloy for SOFC interconnector and adopted to major SOFC manufactures and institutes in the world. Please contact us for the stock situation.
*The width and length of the stock materials may be changed without notice.
※Thickness: 0.10、0.20、0.30、0.50、1.00、1.50、2.00、2.50 (mm)
---
Crofer 22 H
The Crofer 22H is an improved version of the Crofer 22APU in terms of creep strength at the operational temperature of SOFC. The other characteristics including the resistance characteristic of the oxidized layer are equivalent to the Crofer 22APU. The better mechanical characteristics of the Crofer 22H version enables to use thinner materials for cost and weight saving.
*The width and the length of the stock may be changed without notice.
---
Other Materials
We also supply SOFC interconnect in ZMG232L, SUS430, SUS316L and Nickel alloys etc. Please contact us for any request for the alloy selection.
Processing
For the production of SOFC interconnect by applying under mentioned processing technology, which is able to offer the parts with the highest SOFC interconnect characteristics. (Photo Chemical Milling, Laser Cutting, Press Processing, Machining/Grinding Processing, Diffusion Bonding Processing, Braze Processing, Electroplating, etc.)